Allan Smiley
Alan Smiley has worked at the Center since 2011.  Over the years, Alan has acted as a Service Facilitator and Case Manager for Virginia Medicaid Waivers.  He is currently the Waiver Manager as well as continuing to act as a Service Facilitator.  With a master's degree in Assistive Technology, Alan has experience assessing individual needs at the DoD Computer Accommodations Program lab, local Organizations, and evaluating ADA compliance with a DARS Rehabilitation Engineer.  He enjoys working with individuals and their families in the home and community to ensure needed services are provided.
Najat Igri
Najat Igri is the IEC office Manager. She is responsible for assisting the Executive Director, with all administrative duties to run and maintain an efficient office. Najat has been working with the Independence Empowerment Center for 8 years and always strives to help IEC's consumers and to make a little bit of difference in people's lives. Her strengths include sincerely caring about people and making every effort to help them. Najat likes to finish her work efficiently and smoothly. Her wish for our consumers is to live their best lives and having any and all assistance necessary. Her favorite hobbies are traveling and reading.
Kristie Bowie-Young
Kristie Bowie-Young has been IEC's Waiver Service Facilitator for three years. The thing she likes most about her job is helping our consumers navigate their own way. Kristie is a dedicated and passionate advocate for her consumers. The wish Kristie would grant to her consumers is to make all disability systems provide the services and supports that the individual needs without stress. Kristie has three teen sons; two of whom are on the Autism Spectrum and present with several medical diagnoses. She enjoys spending time with her large family that lives in the area. Kristie has a degree in music and enjoys playing her viola and violin. She also enjoys crafting and crocheting.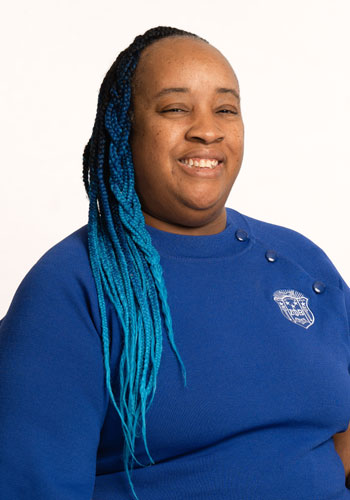 Shannon Straughn
My name is Shannon Straughn. I am an Independent Living Advocate, which means that I can help our consumers with resume writing, applying for jobs housing information, utility bills, etc. I have been with independence Empowerment Center for 8 years. My job allows me to help people in their time of need which is a great thing in itself but what I really enjoy is that, even if just a little, I get to make a difference in someone's life and make life a little easier for them. One of my strengths is that I am very relatable which makes it easier to assist our clients. If I could grant one wish to my consumers it would be for them to have access to all the resources that could help them, especially when it comes to housing. In my free time I love to listen to music and go to concerts. I also love to travel and see new places around the world with my family.